About Burlington Mini Maker Faire
Outta This World! 2016 Burlington Mini Maker Faire!
When:
Saturday, April 23th, 2016, 10 am to 5 pm (Rain or Shine)
Where:
Who:
Presented by members of  Alamance Makers Guild
Open to the Public (family friendly, all ages, all interests)
Free Admission, See "Attend" for more information
A celebration of making things, modifying things, and being creative

A fun time for kids and the whole family

An educational experience and a chance to talk with makers about their projects and ideas

Interesting projects including Tesla Coils, Steampunk Art, Retro Video Games, Science Kits, Recycled Crochet Art, Robots, Digital Fabrication Technology such as 3D printers, and much more!
To work together as a community of makers, share our projects, and inspire others in the community (including our youth) to make their own projects

To promote "Making" in Alamance County and gauge the receptiveness of the community to a possible future Makerspace
Don't just attend, share
 your OWN projects or crafts along with us:
Contact us to tell us about your project

See "Call for Makers" for more information
About Alamance Makers Guild:
Alamance Makers Guild is an open group of talented and creative makers from Alamance County (and surrounding areas) here in North Carolina. We are based in the newly opened STEAM Junction Makerspace and share the joys, knowledge, skills and community of being creative. We are makers, artists, programmers, tinkerers, boffins, crafters, woodworkers, blacksmiths, educators, and folks who think "how can I make that?" instead of "where can I buy that?"
About Maker Faire:
Maker Faire is the Greatest Show (and Tell) on Earth—a family-friendly showcase of invention, creativity and resourcefulness, and a celebration of the Maker Movement. It's a place where people show what they are making, and share what they are learning.
Makers range from tech enthusiasts to crafters to homesteaders to scientists to garage tinkerers. They are of all ages and backgrounds. The aim of Maker Faire is to entertain, inform, connect and grow this community.

The original Maker Faire event was held in San Mateo, CA and in 2015 celebrated its tenth annual show with some 1100+ makers and 145,000 people in attendance. World Maker Faire New York, the other flagship event, has grown in four years to 600+ makers and 80,000 attendees. Detroit, Kansas City, Atlanta, Milwaukee, Orlando, Pittsburgh, San Diego, Silver Spring, Ottawa, Lisbon, Paris, Rome, Berlin, Newcastle, Hannover, Oslo, Trondheim, Seoul, Singapore, Taipei, Tokyo, and Shenzhen are the home of larger-scale, "featured" Maker Faires. In addition, over 120 community-driven, independently organized Mini Maker Faires are now being produced around the United States and the world—including right here in the East Bay.
Maker Faire is supported by Make: magazine and Maker Media.
About Make: Magazine: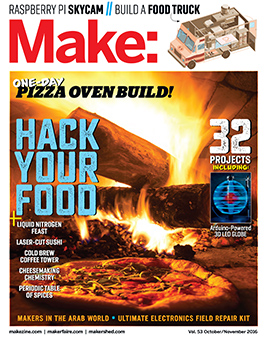 Make: is the first magazine devoted entirely to Do-It-Yourself (DIY) technology projects.
Make: unites, inspires, informs, and entertains a growing community of resourceful people who undertake amazing projects in their backyards, basements, and garages.
Make: celebrates your right to tweak, hack, and bend any technology to your will.
Besides the magazine and the faire, Make:
and Maker Media is: